Looking to turn text into speech using AI? You're in the right place. AI text-to-speech software is super useful for a variety of tasks. Maybe you're working on a project, need help with language learning, or just want to listen to text instead of reading it.
In this article we have listed the 5 best AI text-to-speech software. These tools can do it all, and you don't need to be a tech expert to use them. By the end, you'll be well-equipped to pick the right software for your needs.
5 Best AI Text To Speech Voice Generator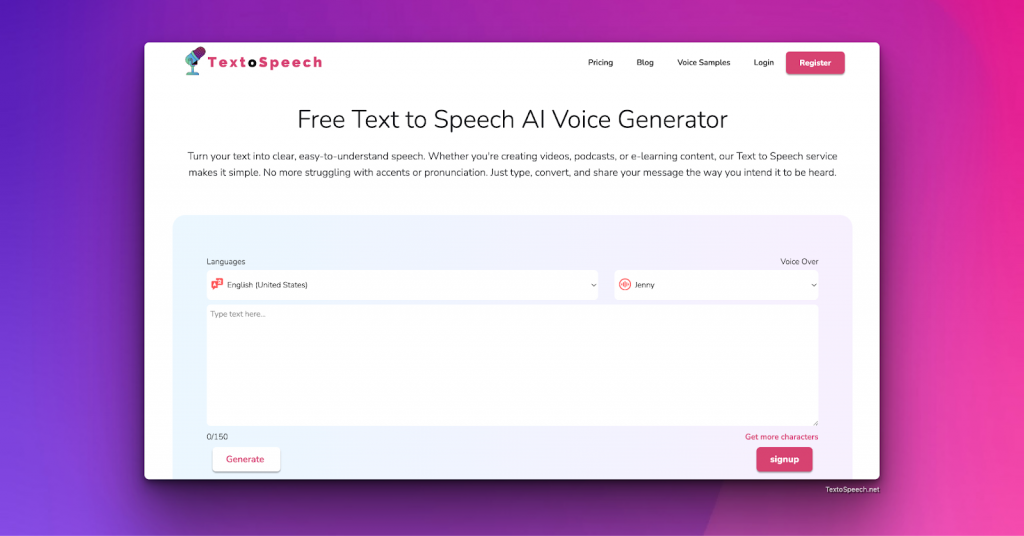 TextoSpeech is an online platform that brings high-quality AI voices to convert text into speech. It offers a variety of voices and languages to choose from, allowing users to generate audio files from text with different accents and emotions.
It is easy to use, you just type, convert, and export. It can speak in many languages and different accents. You can change how fast it talks, make it emphasize words, or even sound happy or sad. It's good for making voiceovers quickly without a real person to record it​.
Features
200+ Voices: Choose from a large variety of voices for your projects.
Speed Control: Control how fast the voice speaks.
Word Emphasis: Make certain words stand out.
50+ Languages: Many languages are available for broader reach.
Multiple Accents: Get the right regional accent for your audience.
Voice Emotions: Add feelings like happiness or sadness to the voice​.
Pros and Cons
Pros
Easy to use.
Quick voiceover creation.
No installation.
Voice customization.
Cons
Less natural voice.
Internet required.
Learning about some features.
Limited emotion variety.
Price
2. Murf.ai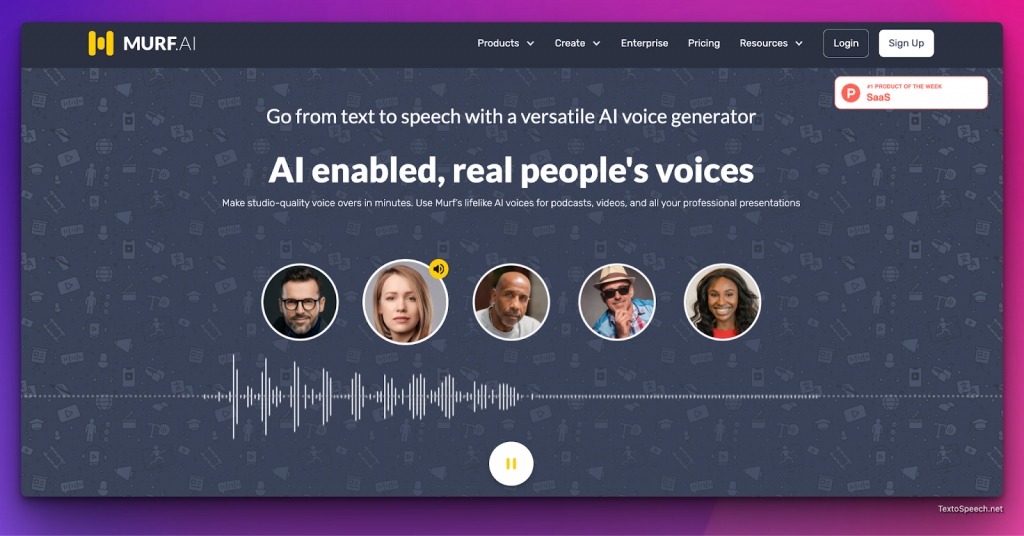 Murf.ai is best text to speech tool for creating voice overs for marketing, educating, or telling stories. It's quite user-friendly, making it easy for anyone to create voice overs without needing a studio or technical skills.
With Murf.ai, you can type your text, pick a voice, and get a clear, professional-sounding voice over. It also lets you tweak the voice to fit your content, making it sound just the way you want.
Features
100+ human-like voices are Available
Easy-to-use editor
Control over pitch and speed
Background music addition
Real-time voice generation
Voice styles for different moods
Pros and Cons
Pros
Simple to use
Many voice options
Real-time editing
Add background music
Cons
Requires internet
Limited to available voices
May need time to explore all features
Subscription cost for premium voices
Price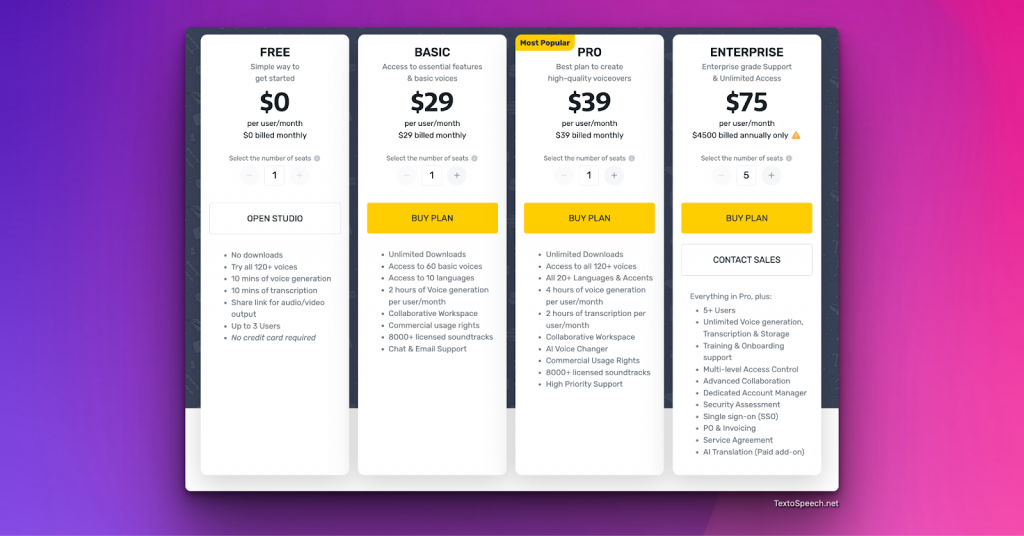 3. Speechify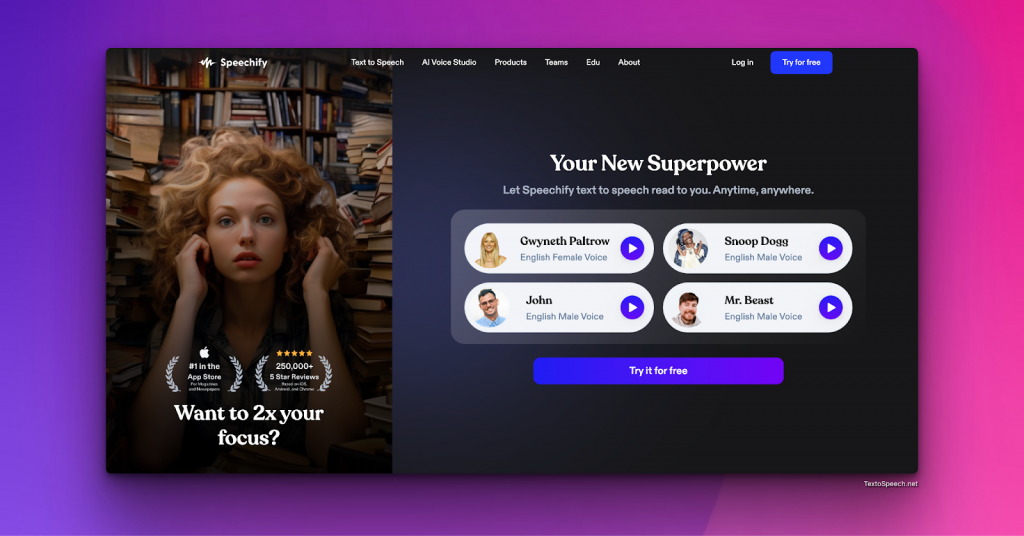 Speechify helps to make reading content easier and more accessible. The platform provides a simple user interface where you can type or paste text, and it will read it out loud in a natural-sounding voice.
Speechify offers both free and premium subscriptions, boasting over 150,000 5-star reviews. Speechify can be accessed through various platforms like web browsers, Google Chrome extension, and mobile or desktop apps for iOS, Mac, and Android, making it very versatile and handy on the go​.
Features
100+ realistic TTS voices
Exclusively licensed voices (e.g., Snoop Dogg & Gwyneth Paltrow)
Speed control (from 1.0x to 4.5x)
Voice selection (Recommended, Recent, All)
Add files (PDF, documents from local storage)
Add images (scanned images, photos or screenshots)
Web link listening
Apps for multiple platforms (Chrome, iOS, Mac, Android, Edge)
PDF Reader that reads out loud
Download MP3 functionality
Multilingual support (many languages listed on the platform)
Pros and Cons
Pros
User-friendly
Multilingual support
Versatile (usable on many platforms)
Large variety of voices
Speed control for listening preference
File and web link support
Cons
Requires internet connection
Premium voices and features behind a paywall
Might take time to explore and find preferred settings
Price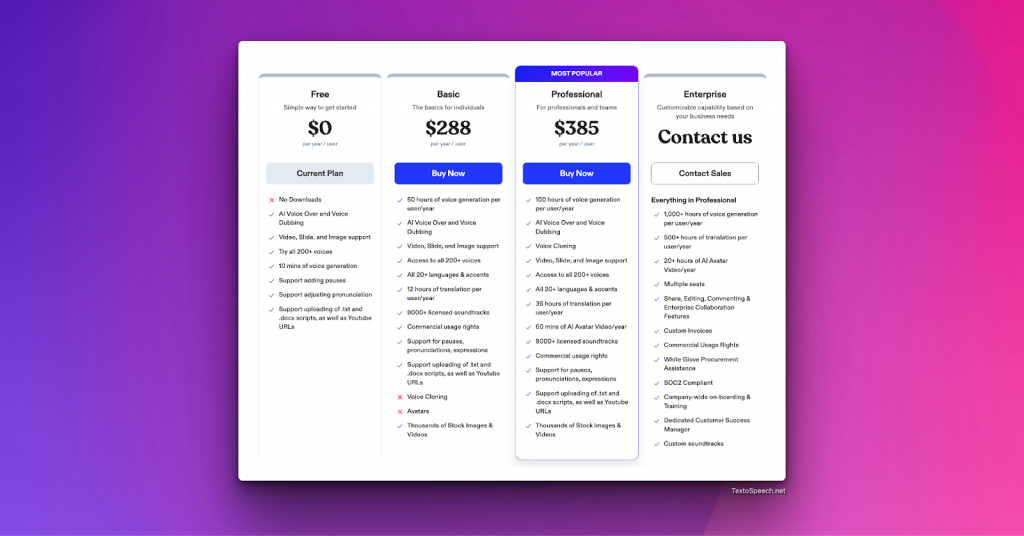 4. Amazon Polly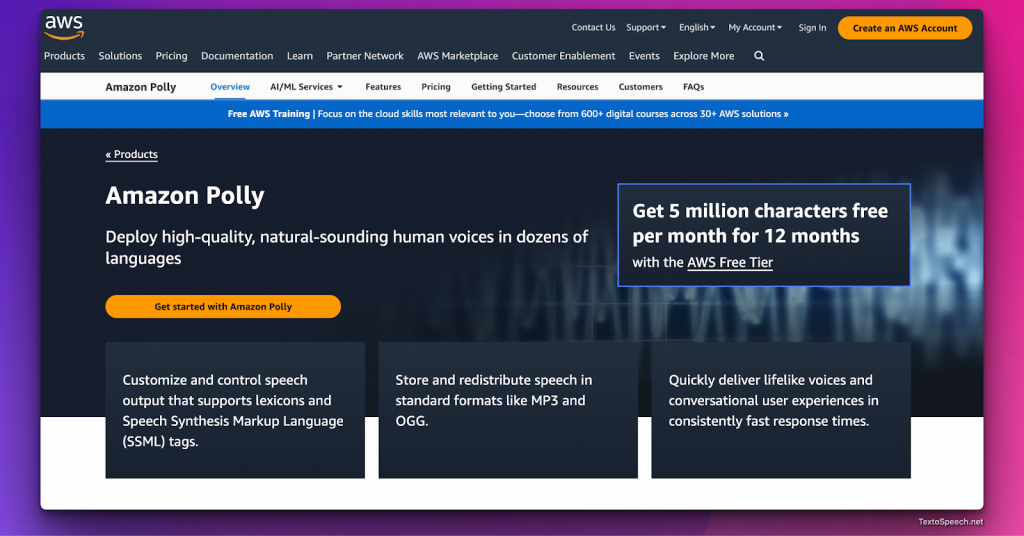 Amazon Polly is a cloud service by Amazon Web Services (AWS) that converts text into lifelike speech, allowing developers to create applications that talk, and build entirely new categories of speech-enabled products.
Polly's Text-to-Speech (TTS) service uses advanced deep learning technologies to synthesize natural-sounding human speech. With Polly, you can create interactive language-based applications, improve reading accessibility, provide a more personal customer experience, and much more.
Features
Simple-to-Use API
Wide Selection of Voices & Languages
Synchronize Speech for Enhanced Visual Experience
Optimize Your Streaming Audio
Adjust Speaking Style, Speech Rate, Pitch, and Loudness
Newscaster Speaking Style
Adjust the Maximum Duration of Speech
Platform and Programming Language Support
Speech Synthesis via API, Console, or Command Line
Custom Lexicons
Brand Voice
Contact Center Integrations​2​.
Pros and Cons
Pros
Multiple language and voice options
Realistic and natural-sounding voices
Customizable speech output
Availability of a free tier
Pay-as-you-go pricing model
Capability to cache and replay generated speech at no additional cost
Integration with other AWS services and contact center solutions
Cons
Costs can add up with extensive usage
The quality of neural voices, which are priced higher, may vary
Requires internet connectivity
There might be a learning curve for understanding and effectively using all the features
Price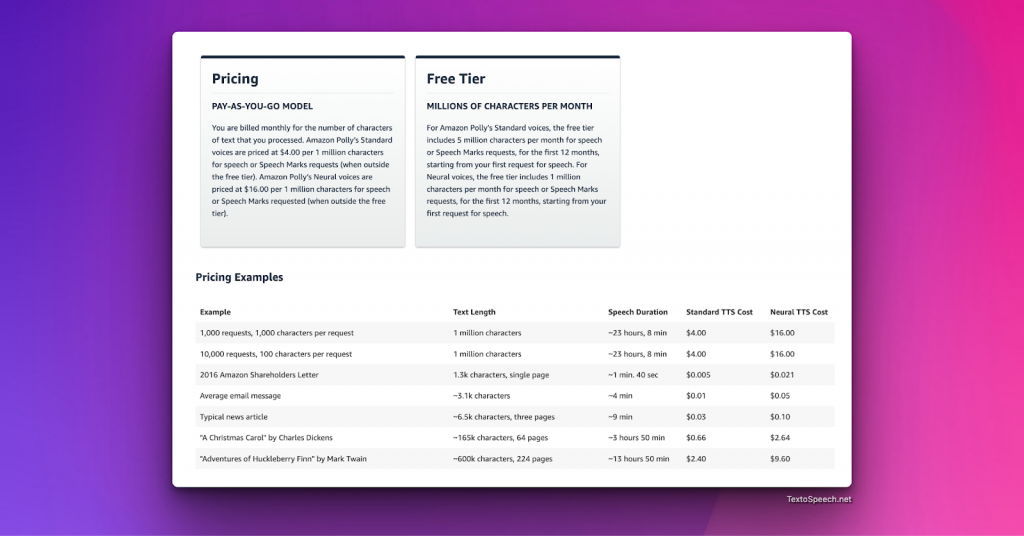 5. PlayHT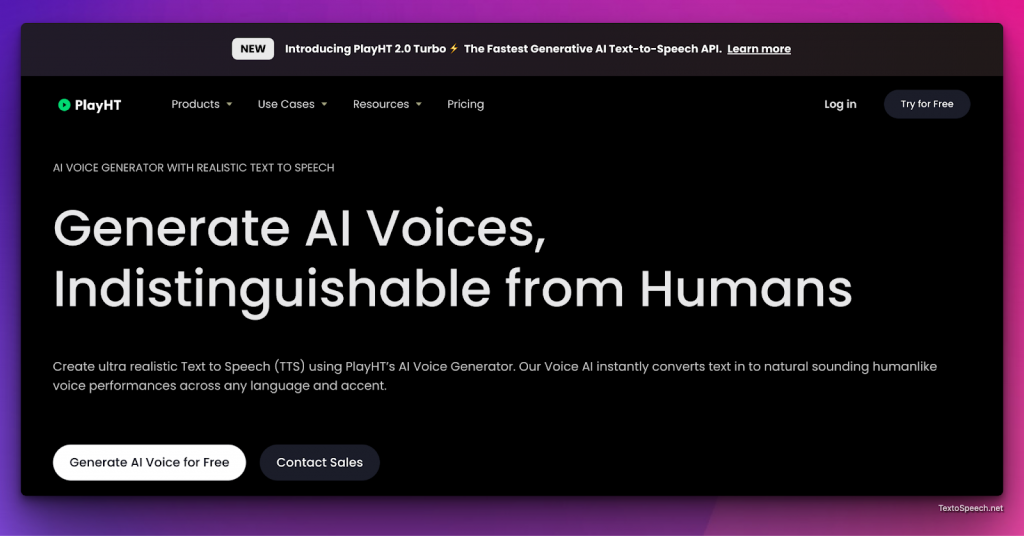 Play.HT It's a tool designed for creators, marketers, and developers who need automated voice generation for their projects or products. It's aimed at creating realistic voiceovers, audiobooks, podcasts, and more without the need for a human narrator. 
They offer a variety of AI voices that can read your text in a natural, human-like manner. The platform is equipped with a variety of voices and languages to choose from, making it a versatile choice for multi-language audio content creation.
Furthermore, it provides an online studio for creating AI clones and voice overs which can be a fun and useful feature for many creators.
Features:
Multiple Pricing Plans: Free, Creator, Unlimited, and Enterprise, each catering to different levels of usage​​.
A variety of AI voices across different languages.
Voice Cloning: Create a unique voice for your brand.
Voice Styles: Change tones and style of speaking for better engagement.
Control Over Narration: Adjust speed, add emphasis, and natural pauses.
Emphasis and Natural Pauses: Add emphasis to words and natural pauses in speech​1​.
Pros and Cons
Pros
Easy to use 
Diverse pricing plans to suit different needs and budgets​​.
High-quality, realistic AI voices that are almost indistinguishable from human voices.
Extensive customization in narration style.
Provides a rich library of AI voices.The platform
supports almost every language.
Cons
Some features like multilingual support and certain voice styles are still under development and not available for all languages​.
Attribution to Play.ht is required in the Free Plan, which may not suit all users​​.
Enterprise features and better support structures are locked behind higher pricing plans​
Price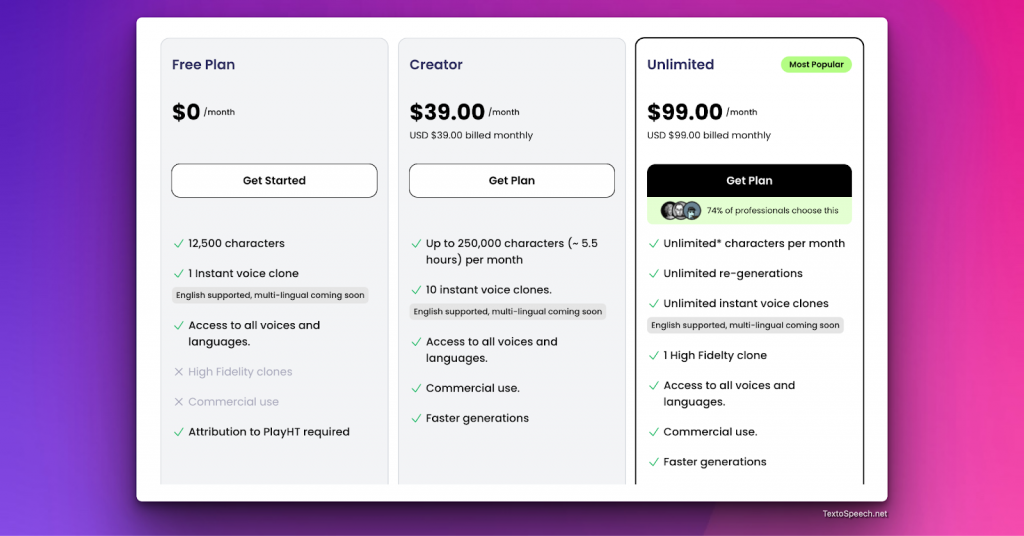 You can also check out:
Best French Text-to-Speech Tools
Best Japanese Text to Speech Tools
Conclusion
We've gone through the top 5 AI text-to-speech software in this article. Whether you need a tool for an audiobook, podcast, or educational video, these software options have got you covered with high-quality, natural-sounding voice output.
Now that I know the best AI TTS software, making a choice should be much easier. If you haven't already, it's high time to try one out and see how it makes your work shine.