Looking for a way to turn Japanese text into speech? Whether you're trying to learn the Japanese language or you've got a project that needs it. Japanese Text-to-speech can make life easier, allowing you to listen on the go or even multitask.
In this article, we're going to show you the 6 Best Japanese text-to-speech tools for AI voice generation. By the end, you'll have a clear idea of which tool to go for japanese text to speech, making your decision-making a whole lot easier.
Why Japanese Text to Speech?
Japanese Text to Speech is a big deal because around 125 million people speak the Japanese language. That's a lot! By converting text into spoken words, it helps people, learners and businesses alike.
Plus, it's always easier to remember what we hear, especially when it's a language like Japanese. This works great for mastering the language, enjoying tales, or conducting business in Japanese.
Additionally, with AI-driven voice tools, the output feels authentic, much like a human speaking. So, if you're a learner, an explorer, or simply someone enchanted by Japanese sounds, Text-to-Speech solutions can be beneficial!
6 Best Japanese Text to Speech
Picking a good Text-to-Speech tool is important, especially for Japanese. There are many tools, but you need one that sounds real and works for you.
In this part, we'll look at the 6 best Japanese text-to-speech tools. They're easy to use and sound great. Check them out to see which one you like best!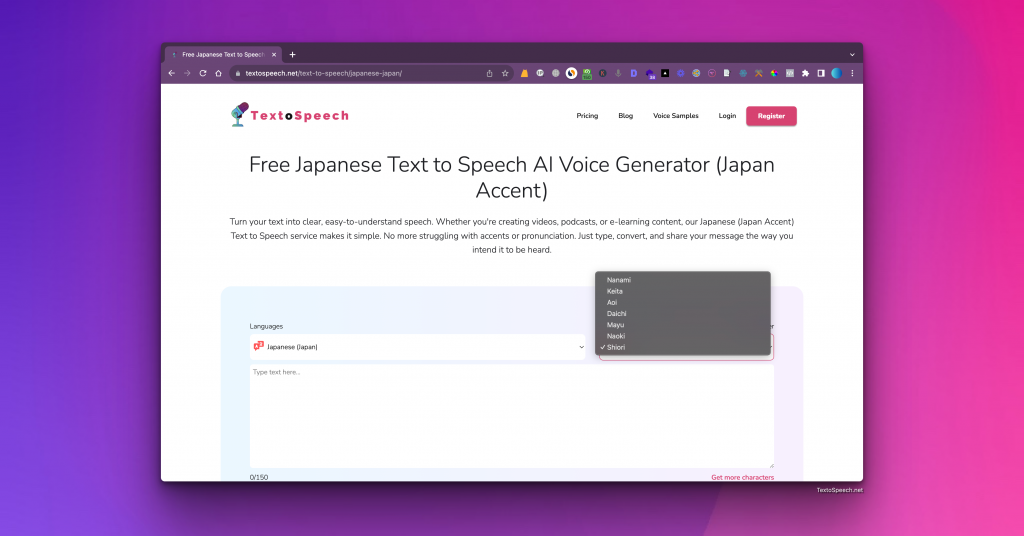 TextoSpeech is the best software where you can turn text into a Japanese voice.  You can pick different voices and languages. It's good for making voiceovers for videos, audiobooks, and online courses. 
You can change how fast the voice talks, make some words stand out and pick from voices that sound happy, sad, or angry. It's easy to use, and you don't need to pay extra if you want to change your voiceovers later.
Features
200+ Voices: Pick from different voices to read your text.
Multiple Languages: Choose from over 50 languages.
Emotions in Voice: Make the voice sound happy, sad, angry, and more.
Speed Control: Make the voice talk fast or slow.
Easy to Use: Simple for anyone to use, even beginners.
Quick: Makes voice-overs in about 1 minute.
Accents: Pick different accents like US or UK English.
Pros and Cons
Pros
Variety of Voices and Languages
Emotional Tone
User-Friendly
Cost-Efficient
Flexible Editing
Cons
Web-based application
Limited Time Customer Support
2. Narakeet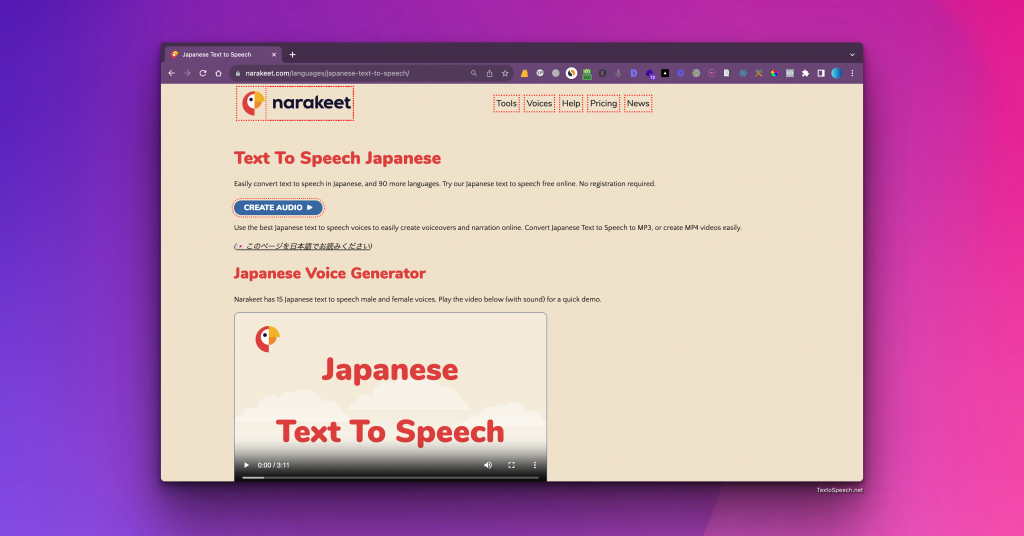 Narakeet is a website that helps you make voiceovers and videos from text. You can turn PowerPoint slides into videos, make different voices like a child or robot voice, and create videos for YouTube or TikTok. 
It can read your text out loud in a voice you choose and turn it into an audio file or a video.
Features
Text to Audio: Turn text into spoken words.
Powerpoint to Video: Make videos from PowerPoint slides.
Different Voices: Choose from voices like child, robot, or female.
Generate Videos: Create videos for learning.
PDF Audio Reader: Turn PDFs into audio.
Video from Source Code: Turn the code into a video.
Pros and Cons
Pros
User-Friendly Interface
Natural-Sounding Voices
Automation Process
Extra Editing Features
Cons
May Lack Advanced Editing Features
web-based tool
3. Play.Ht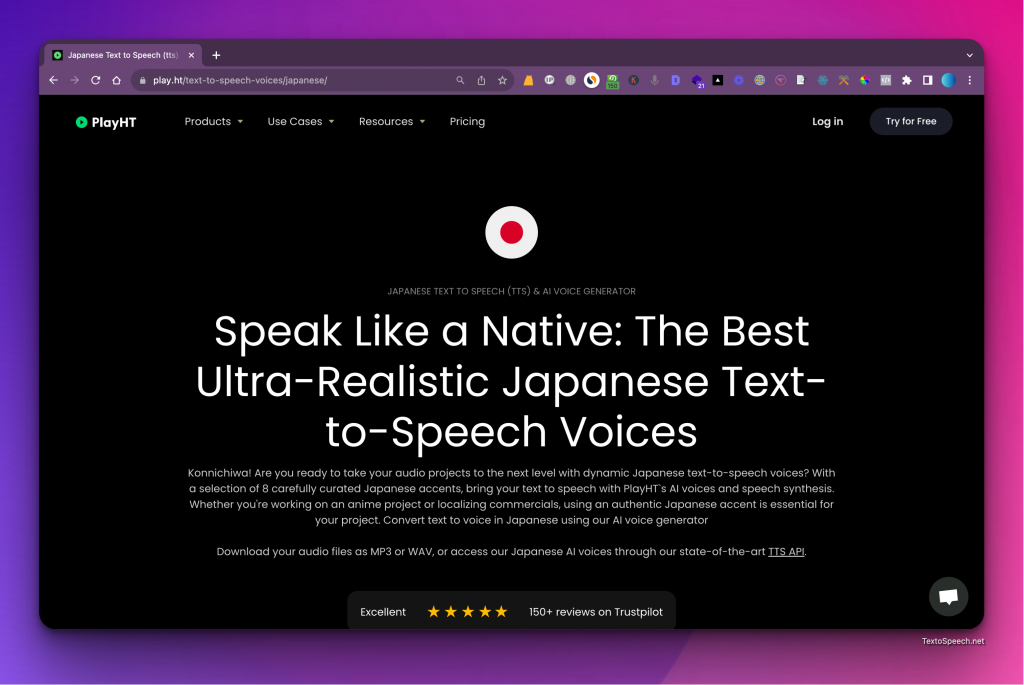 Play.ht is a website where you can change text into Japanese speech. You can pick from over 907 AI voices in more than 100 languages. It lets you make voices for videos, audiobooks, games, and more.
You can also clone voices to sound like a particular person. It has different types of voices like for explaining things, telling stories, or acting like a character. You can use it for many projects like making a podcast, teaching online, or making your game sound cool.
Features
Lots of Voices: Over 900+ AI voices to choose from.
Multiple Languages: Voices in more than 100 languages.
Voice Cloning: Make a voice sound like someone else.
Different Voice Types: Voices for explaining, storytelling, or acting.
Real-Time Voice Making: Create voices on the spot.
Voice Editing: Change and fix the voice audio easily.
Use for Many Projects: Good for videos, audiobooks, games, and more.
Pros and Cons
Pros
Wide Voice Selection
Realistic Speech
Voice Cloning
Various Use Cases
Real-Time Generation
Voice API
Cons
High Price
Hard Learn Curve
Too Advanced for beginner
You can also check out the list of the best AI text to speech tools overall from here: best AI Text to Speech Softwares
4. MicMonster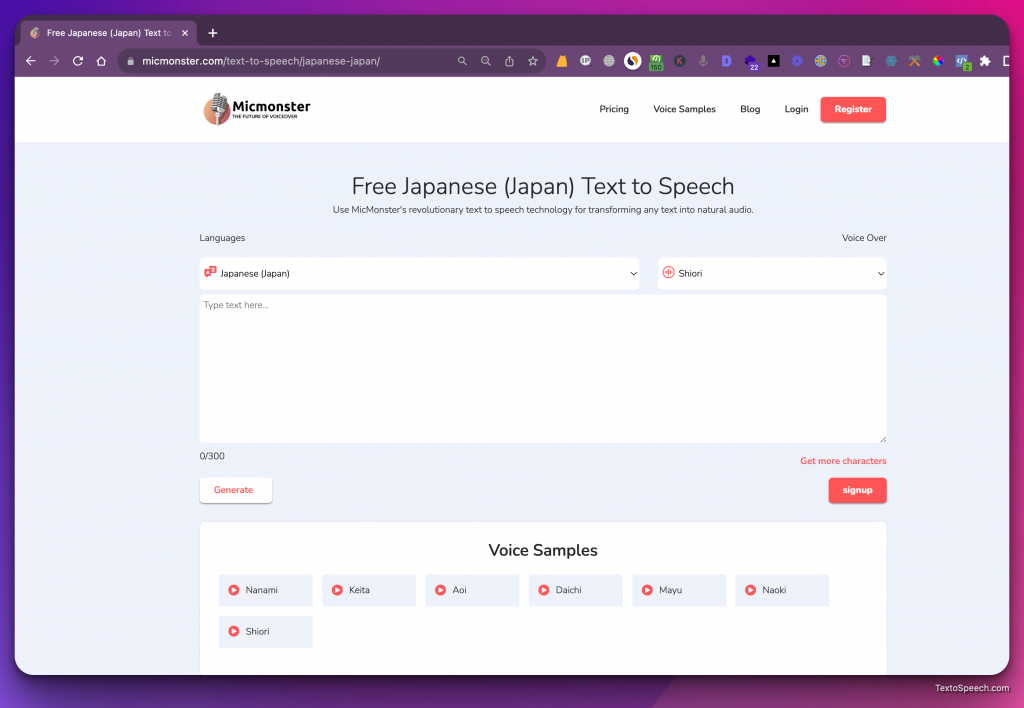 MicMonster turns your text into speech that sounds like a real japanese person speaking. It has over 600 different voices you can choose from in 140 languages. You can pick different voices for different parts of your text. It lets you change the voice sounds by adjusting the speed, pitch, and pauses. 
You can also tell it how to say words the right way. Before you turn your text into speech, you can listen to a preview to make sure it sounds good. It's useful for making voice overs for YouTube, podcasts, audiobooks, e-learning, radio, and corporate training​.
Features
Multiple Voices: Over 600 voices in 140 languages.
Edit Voice Sound: Adjust speed, pitch, and pauses.
Preview Option: Listen before turning text into speech.
Custom Pronunciations: Customize the word pronunciation with phoneme support.
Merge Audio Files: Merge multiple audio files together​.
Pros and Cons
Pros
Variety of Voices
Voice Customization
User Friendly
Long Text Conversion
Cons
Hard Learning
12,000 characters limit at once
5. Murf Ai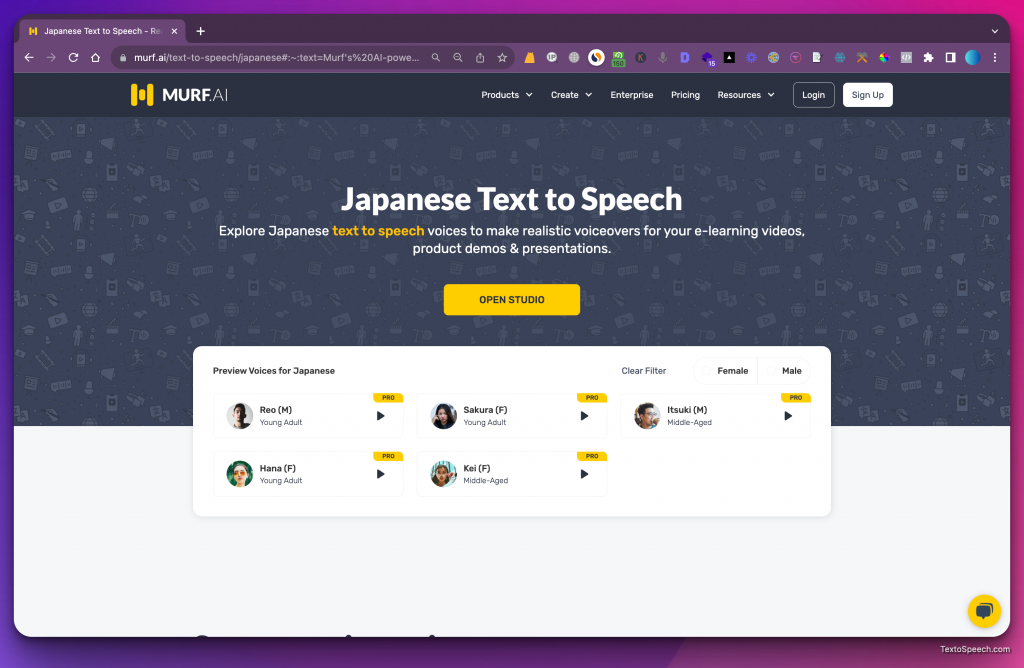 Murf is one of the best voice over tools, it has over 120 voices in more than 20 languages including Japanese. You can use it to turn text into speech for videos, podcasts, or other projects. It also lets you play with the voice pitch and speed to make it sound just right. 
You can add your own videos, music, or pictures and make them go along with the voice. If you work with a team, you all can use Murf.ai together on the same project. It's good for different jobs like teaching, marketing, writing, and more​.
Features
Lots of Voices: Over 120 voices in 20+ languages.
Different file type support: Put in your videos, music, or pictures.
Change Voice Sound: Play with voice pitch and speed.
Make Professional Voice Overs: Turn simple recordings into cool voiceovers.
Enterprise Plan: Share and work on projects with others.
Pros and Cons
Pros
Wide Range of Voices
Customization
Collaboration
Multimedia Integration
Extra Effects
Cons
High Pricing
Not better customer support
6. FreeTTS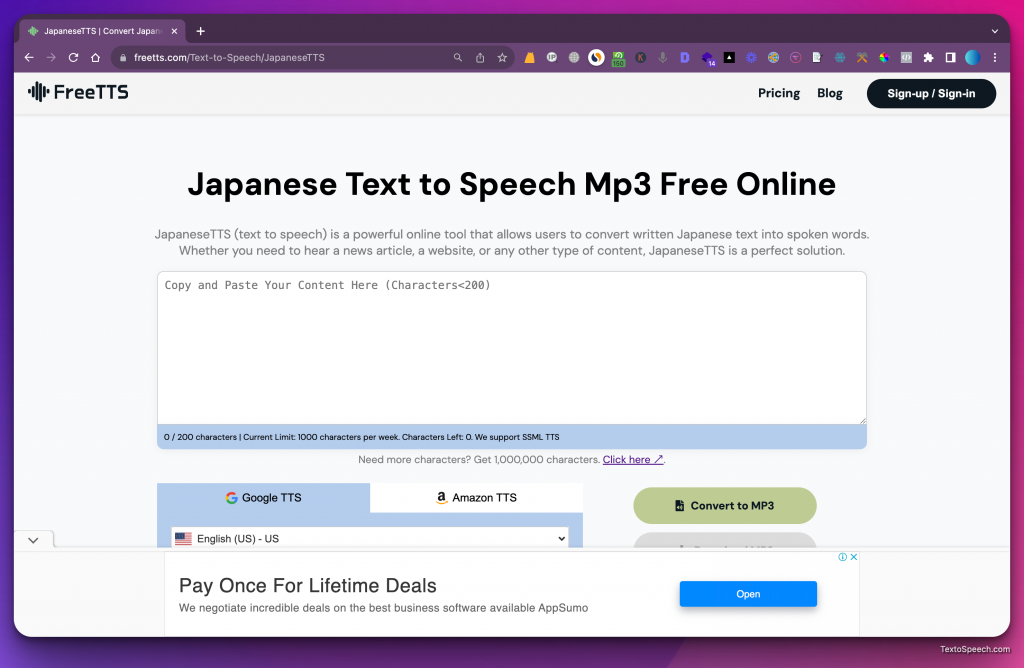 FreeTTS is an open source website to do voiceover words, saved as an MP3 file. It can speak many different languages like Japanese, French, Arabic, etc. You don't need to sign up to use it. It's fast and easy to use. It's also free, even for business stuff.
The voices sound robotic but clear. They use Google's tech to make the speech. There's also a feature to change how the speech sounds using SSML (Speech Synthesis Markup Language), making it say dates, pauses, and other things the right way
Features
Turn text to speech and save as MP3.
Lots of languages are supported.
No sign-up needed, Easy to use.
Audio files deleted after 24 hours.
Customizing speech using SSML.
Free for commercial use.
Pros and Cons
Pros
Easy and free to use.
Many languages are available.
No need for an account.
Good for quick voiceovers.
Cons
Robotic Sound
Audio deletes in 24 hours
No advanced features
Google Ads might ruin experience
Conclusion and Summary
We've covered the 6 best Japanese text-to-speech voice generators in this article. These tools offer a range of features that can help you, whether you're learning the language or need natural-sounding voice overs for your projects.
From different voice types to customization options, these generators make it easy to get quality audio output. Now that you know the best options out there, picking the right tool for your needs should be straightforward.
So why wait? Try one of these tools and see how it adds value to what you're doing.