Want to turn French text to speech? There are some really good AI voice generators that can help you do that. They're handy for projects, language learning, or just for fun.
In this list, we'll show you the 5 best French text-to-speech AI voice generators. We'll tell you what makes them good and how to use them. By the end, you'll know which one to pick for your needs.
Why Text-to-Speech in French?
French is a beautiful language spoken by 320 millions around the world. With Text-to-Speech tools, you can easily change written French into spoken words. This is perfect for learning the language, listening to stories, or even doing business in French.
Plus, using AI voice generators means the speech sounds natural, almost like a real person. So, whether you're a student, a traveler, or someone who just loves the sound of French, Text-to-Speech tools can be a big help!
Top 5 Best French Text To Speech Generator
Choosing the right Text-to-Speech tool can make a big difference, especially when you're dealing with a language as rich as French. With so many options out there, it's essential to pick one that sounds natural and fits your needs.
In this section, we'll explore the top 5 French Text-to-Speech generators that have proven to be the best in terms of quality, ease of use, and overall experience. Dive in to find out which one might be perfect for you!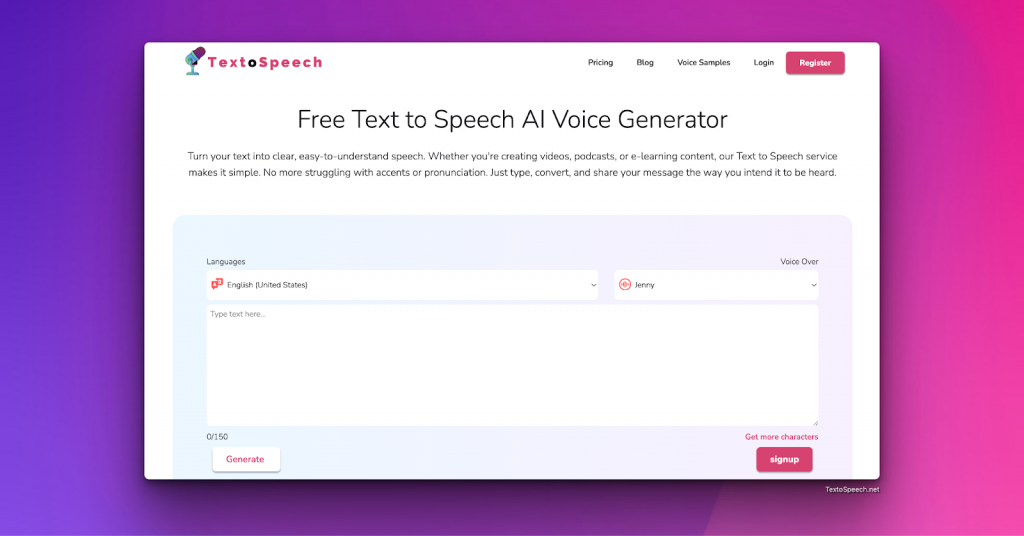 TextoSpeech is an innovative online TTS AI platform that transforms written text into human like speech. Designed for simplicity and ease of use, it helps to a broad varieties of audience – from students to professionals.
Textospeech is a tool that can read French words out loud for you. It knows how French should sound and offers different voice choices. You can use it for school, fun, or work. It makes sure the voice sounds real, like someone from France is talking. Many people like using Textospeech because it's easy to use and does a good job with French words.
Whether you're looking to create a voiceover for a presentation or just want to listen to an article rather than reading it, Textospeech has got you covered. With a user-friendly interface, price offers and a variety of voice options, it stands out as a reliable choice for your Text-to-Speech needs.
Features
200+ AI voices in 50 languages, including French
Easy-to-use interface, great for starters.
Each language has male and female voice options.
It offers various accents for many languages.
Includes voice emotions like sadness, excitement, and anger.
Pros and Cons
Pros
over 200 AI-generated voices.
Supports 50+ languages.
Emotion variations.
Unlimited projects and voiceovers.
Advanced editing tools.
Cons
Character limit up to 12k characters per clip.
Pricing
2. Narakeet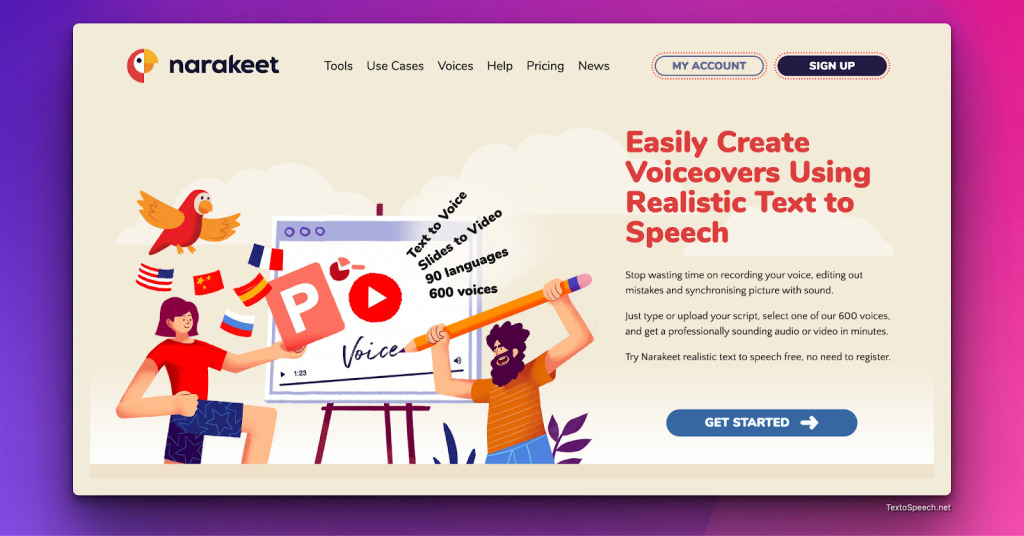 Narakeet is a tool that changes text into speech. It's not just about making voiceovers, but also about making videos. Users can take their written words and turn them into spoken words, and even make videos with them.
This tool has many voices and can speak in different languages. It lets users change how the speech sounds, like making it fast or slow.
One cool thing about Narakeet is that it can match the voice with what's happening in the video. This makes it easy and fun to use.
Features
Narakeet offers a wide range of choices with 90 languages and 600 distinct voices.
The platform accepts both TXT and Docx files.
It's versatile, converting text to audio, slides to video, and even markdown files to video.
Users can generate speech from text in various audio formats like MP3, WAV, and M4A.
Every language comes with options for both male and female voiceovers.
Pros and Cons
Pros
Video Capture
Text Overlay
Audio Tools
Natural-Sounding Voices
Cons
Emotional Variety
User-Friendly Interface
Limited Voice Customization
Subscription-Based Pricing
Price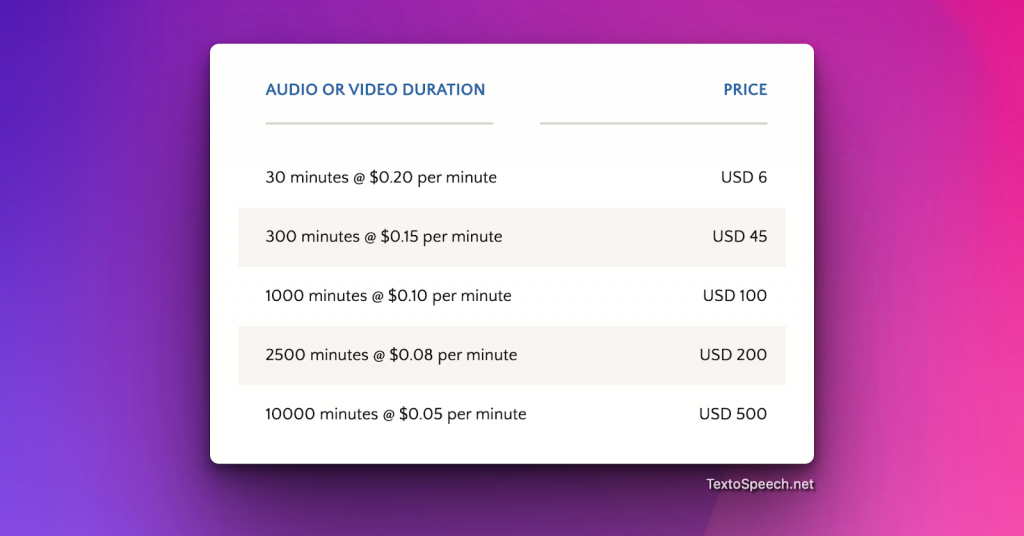 3. PlayHt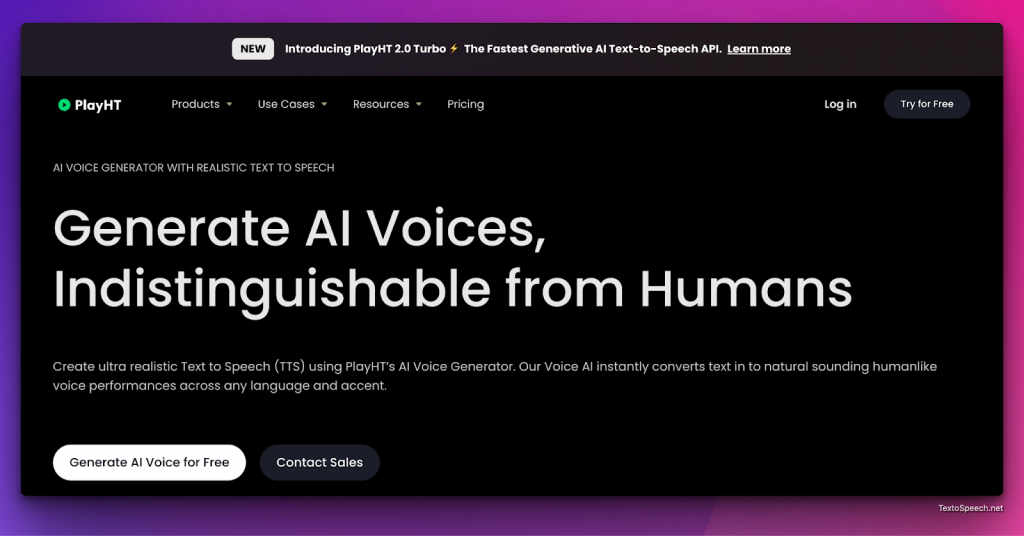 PlayHt is a tool that turns text into voice. You type what you want, and it reads it back to you. It's used by people who want to make audio for their content, like blogs or books. It's simple to use and helps in creating audio versions of written stuff.
Features
Emotions: Play.ht can make the voice sound like it has feelings.
Character Voices: Apart from regular voices, Play.ht offers special voices that sound like certain characters.
Voices in 100+ Languages: It can read text in over 100 different languages, making it useful for a wide range of users around the world.
907 AI Voices: Play.ht has a big collection of 907 different AI-generated voices.
Pros and Cons
Pros
Conversational Voices
Narrative Voices
Local Accents
Multi-Voice Feature
Offers various pricing plans
Cons
Paid plans are needed to unlock all features
No Free Trial
Price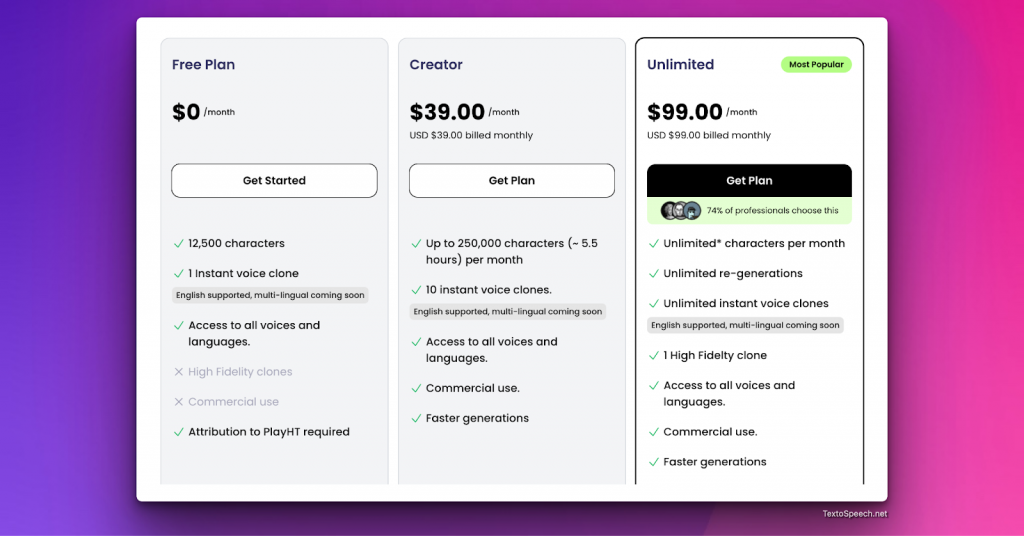 4. Free TTS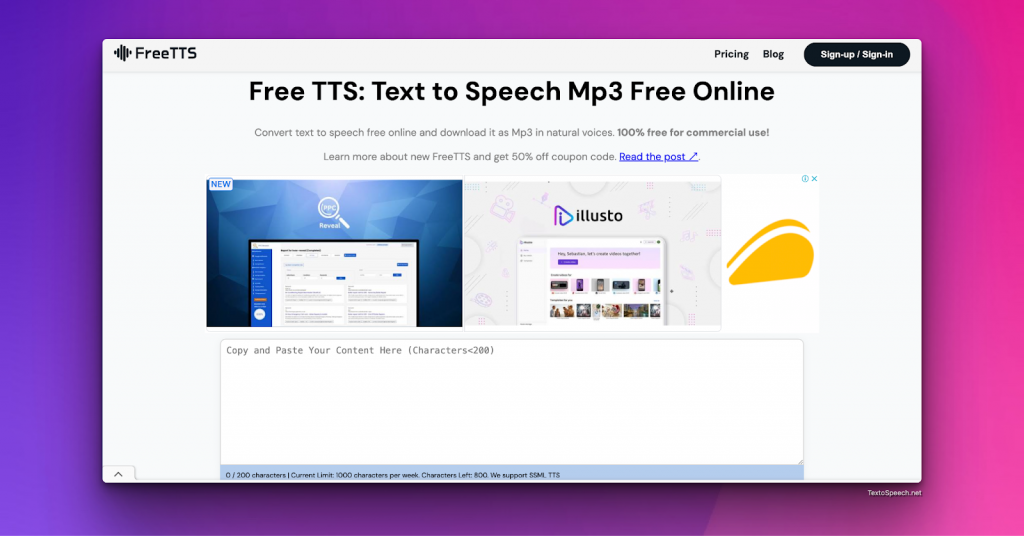 FreeTTS is a website that changes text into voice. You type in words, and it speaks them out loud. It's good for making videos, presentations, or just listening to text. It's easy to use and works for many different needs.
Features
Over 30 languages and dialects are available
You can add SSML codes
Converts abbreviations, dates, and fractions correctly
Converts 6,000 characters per week for free
Pros and Cons
Pros
The interface is simple and intuitive.
Protect user privacy. 
No need to register to enter the web page to use. Faster and more convenient.
Commercial support.
More than 50 languages to choose from.
Easy to use, fast processing, and high sound quality.
Cons
All uploaded audio is deleted within 24 hours.
Price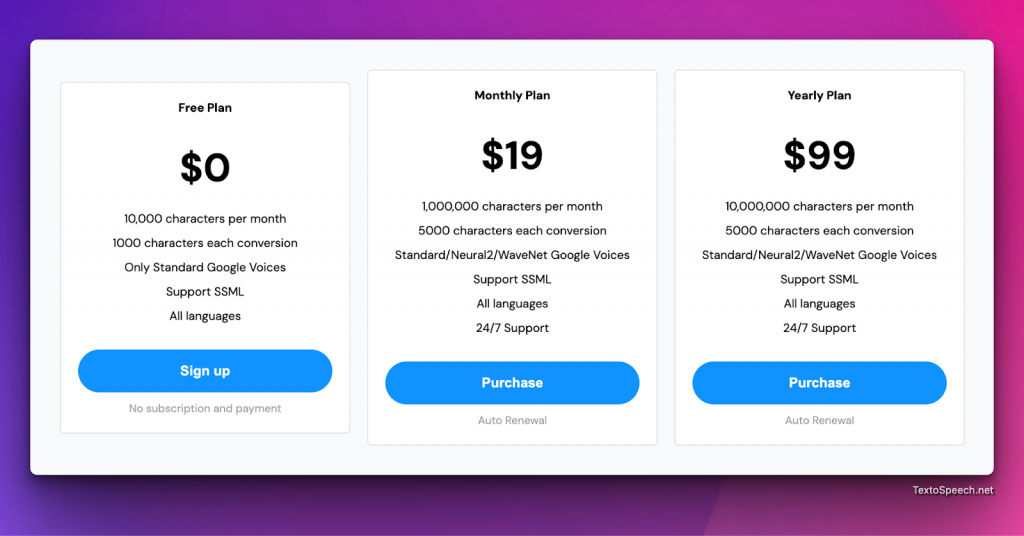 5. Micmonster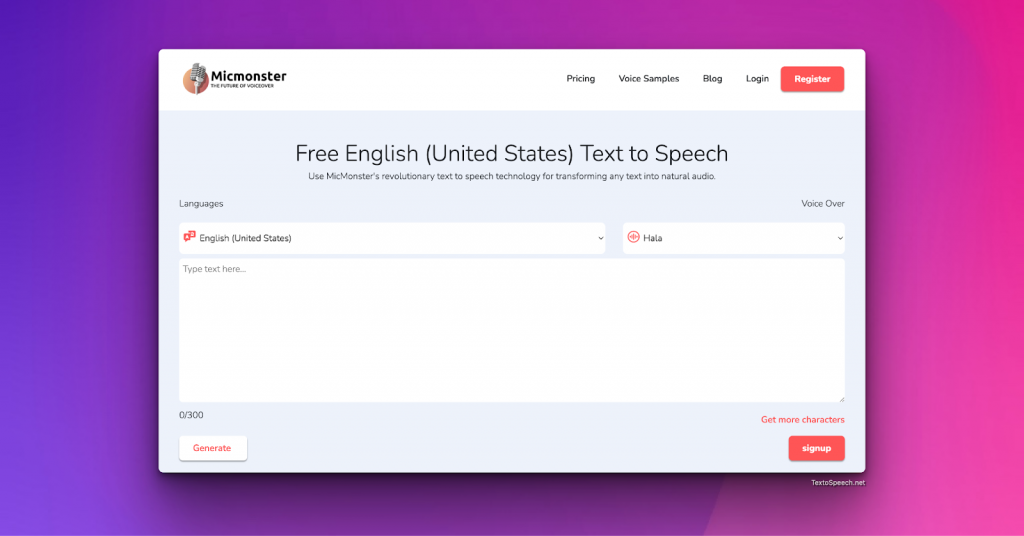 MicMonster is a tool that turns written words into spoken ones. It has many voice options, so you can pick the one you like best. You can hear how the voice sounds before you decide to use it.
It works well with different programs and is easy to use, even if you're new to it. If you need a voice for a video or presentation, MicMonster can help.
Features
Voice Customization: MicMonster lets you change voice styles easily.
Script Flexibility: You can edit and change your scripts the way you want.
Real-Time Preview: Listen to your voiceovers immediately before you save them.
Multi-Platform Integration: MicMonster can be used with different platforms without hassle.
User-Friendly Interface: MicMonster is easy to use, even if you're new to it.
Pros and Cons
Pros
Affordable Pricing
Extensive Voice Customization
Intuitive User Interface
Emotional Variety
User-Friendly Interface
Cons
Limited Language Support
Fewer Predefined Emotions
Price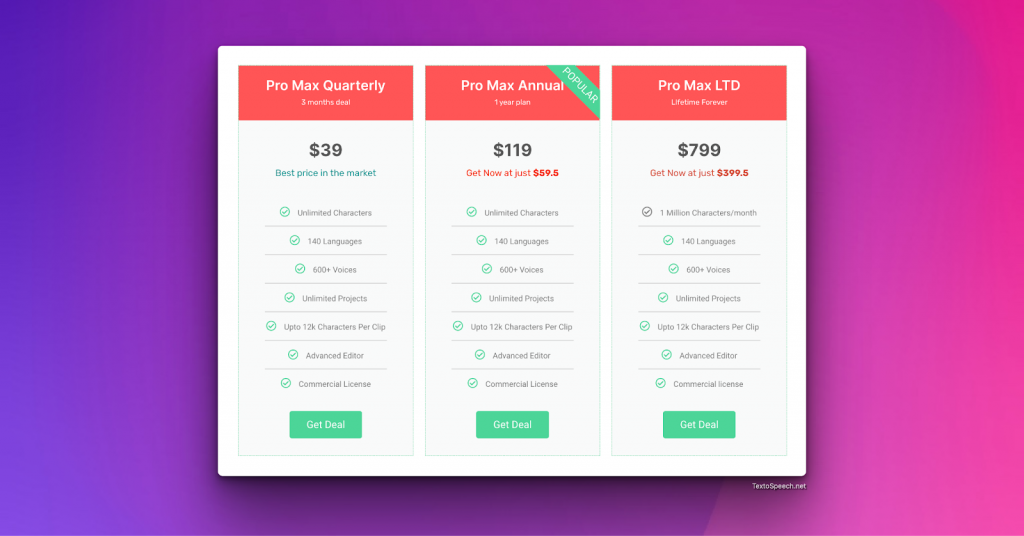 Comparison Table
| | | | | | |
| --- | --- | --- | --- | --- | --- |
| Criteria | Textospeech | Naekeet | Play.ht | Free TTS | Micmonster |
| Price | Lifetime Deal | Depend On Mintes | Custom Pricing | Monthly/Yearly | Lifetime Deal |
| Voice Quality | Excellent | Good | Excellent | Super | |
| Speed | Fast | Super | Super | Super | Good |
| Customization Options | Available | Available | Available | Available | Available |
| Language Support | Available | Available | Available | Available | Available |
| API Access | – | – | Available | | – |
| Usability | Super | Good | Excellent | Super | Super |
| Customer Support | Available | Available | Available | Available | Available |
| File Format Support | – | Available | – | – | – |
| Text Limit | No Limit | No limit | No Limit | 5000 characters each conversion | No Limit |
| Built-in Editor | Available | Available | Available | Available | Available |
Conclusion
We've looked at the 5 best tools for turning French text into speech in this article. These tools are super handy for different things, like learning French or making your work presentations better. They come with a bunch of options to make the voices sound real.
So now that you're in the know, picking one French TTS should be a confusing. Textospeech.net is one of the best out there to get started with, perfect whether you're a student, working, or just curious. Try it out and see how it can improve your stuff!