Curious about Getwoord? Maybe you've heard it's a decent text-to-speech tool and you want to know more. Getwoord is a tool that turns text into speech using realistic voices.
In this article, we're taking a close look at Getwoord review, covering its features, pros, and cons. By the end of the article, you'll know all about Getwoord, their features, pros, cons and whether it is right for you or not.
What is Getwoord?
Woord comes up with a Chrome extension so you can make your voice easier. The voices sound so realistic that it becomes hard to identify if it is done by AI.
Getwoord knows 28 languages and accents like English from America or Australia, French, Portuguese from Brazil, and many more. You can use it to get better at listening and talking in different languages.
Getwoord seems like an easy-to-use, user-friendly option for those looking to convert text to audio.
Features of Getwoord
Text-to-Speech conversion with high-quality voices.
Realistic male, female, and neutral voice options.
OCR to read images and PDFs.
Chrome extension for easy access and usage.
Adjustable speech rate to slow down or speed up the voice.
Repeated playback of generated audio.
Audio Joiner
50 voices across 28 different languages, including regional variations like Canadian French and Brazilian Portuguese.
Commercial License
API Access
Ability to convert various text content such as blog posts, news, books, and research papers into audio.
Pros and Cons
Pros
Multiple language support.
Enhances accessibility
Various pricing plans.
Easy to use.
User-friendly structure.
Supports various text formats.
Chrome Extension is available.
Cons
10,000 character limit per audio.
Limit on audios per month.
Multi-user access is only available in the $99 plan.
Lack advance effects.
The voices lack human touch.
No Free plan.
Pricing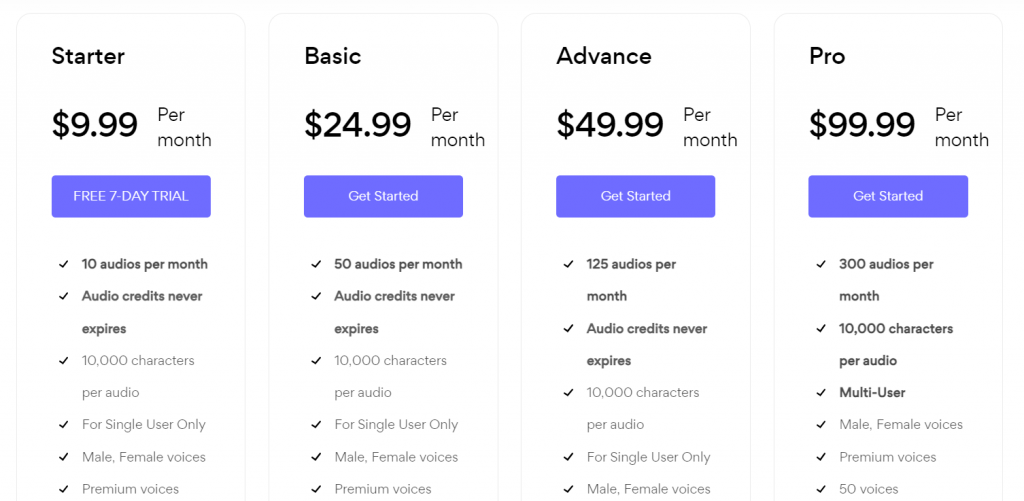 Getwoord Review
Getwoord is best known for features like OCR (Optical Character Recognition) that reads images by recognizing the text which will help those who like to read from reports, pages, books, etc.
Another standout feature is their realistic voice. While they do offer very realistic voices, some might still sound like an AI voice, especially if you listen repeatedly.
They guarantee 100% intellectual property rights for all files. Additionally, they provide a private audio library. They don't offer a permanent free plan. Instead, they have a 7-day free trial, but it's accessible only with a Credit Card.
While Getwoord has these high-quality features, it lacks basic ones like a bulk editor, voice emotions, and unlimited voice generation. These shortcomings make one consider alternatives to Getwoord.
Alternative for Woord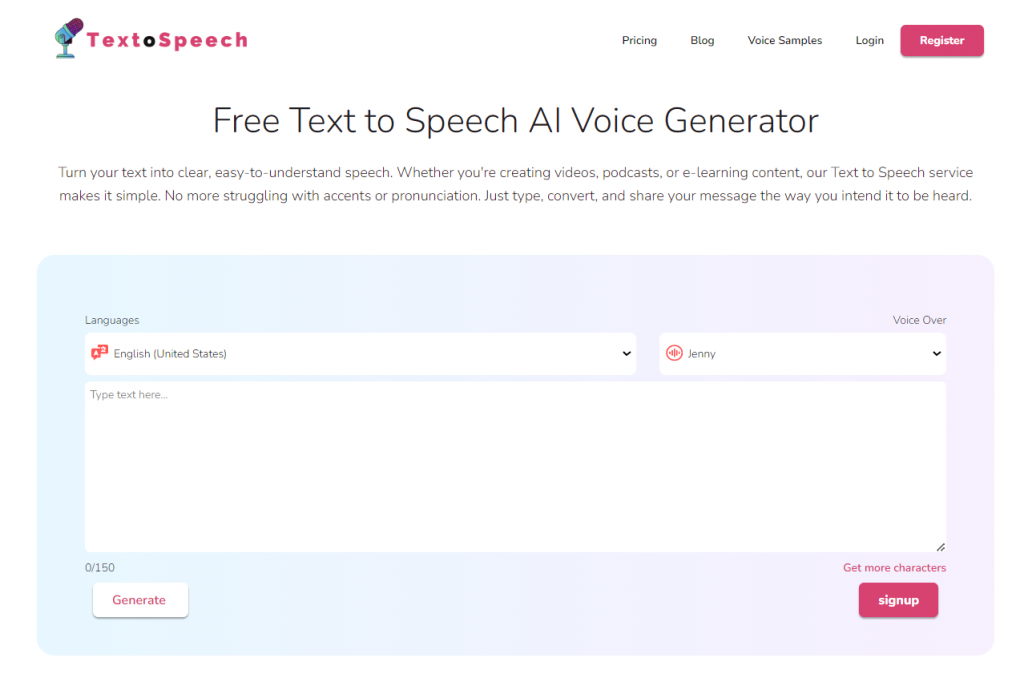 TextoSpeech offer 200+ voices in over 50 languages. You can customize the voice to be fast, slow, or convey emotions like happiness or sadness.
The best thing is, you will get the free plan to get done with a quick start. You can try out their voices and see how it goes for your work. Later, you can upgrade to their paid plan which is comparatively much cheaper than Getwoord.
TextoSpeech is very easy to use. Just write your text edit and export your voice. It provides all the essential features like a bulk editor, voice merging, adding a pause timer, and an affiliate feature. Additionally, TextoSpeech offers a lifetime plan with unlimited voice generation.
Features
200+ Voices
Control how fast the voice speaks and pitch of voice.
Word Emphasis, use Make certain words stand out.
Over 50+ languages are available.
Multiple Accents
Add emotion in voice like happiness or sadness, excitement, etc.
Affiliate Program is available and gives upto 50% commission rate.
Price
Conclusion
We've reviewed Getwoord in this artice, covering its features, pros, and cons. If you're seeking features such as OCR to read images, reports, PDFs, or realistic voices of both men and women, then Getwoord is an excellent choice.
However, if you're in search of bulk editing, unlimited voice generation, emotions in voice, or voice controlling features at affordable price, we recommend TextoSpeech.