Looking for an alternative to Pictory? Pictory has been a go-to for many, but if you're on the hunt for something different that matches or exceeds its capabilities, this is where we introduce you to the best Pictory alternative.
In this guide, we'll explore the best Pictory alternatives that offer unique features to enhance your video editing experience.
Let's dive into the world of video creation tools and discover which one might be your next best pick.
What is Pictory?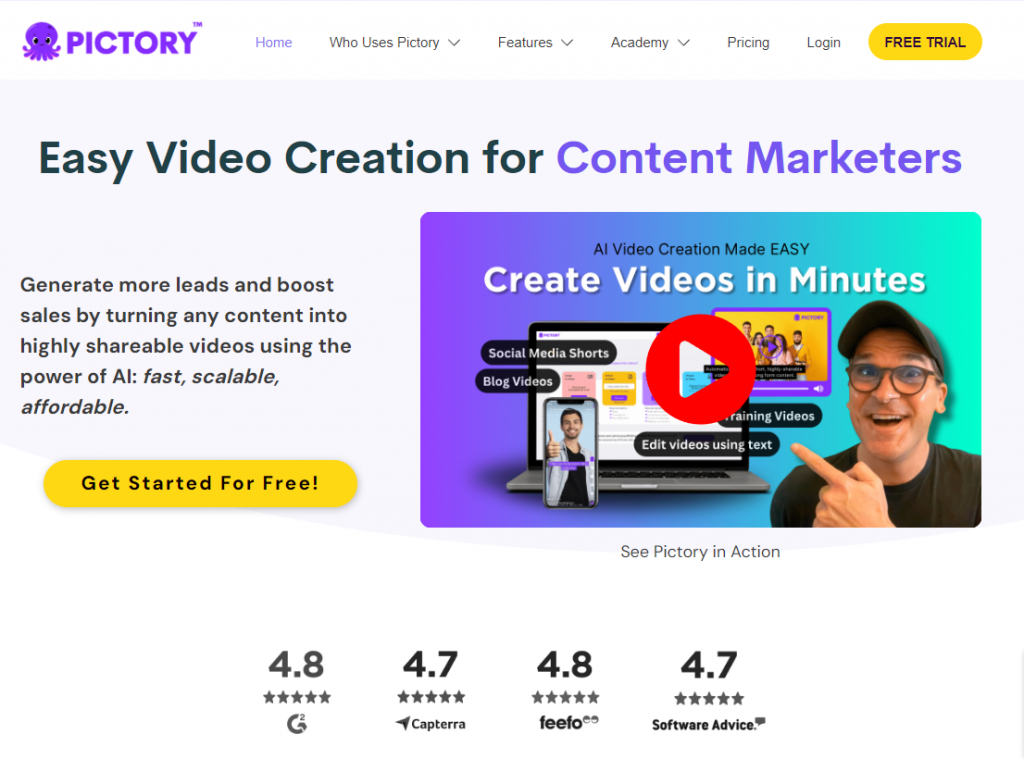 Pictory is a tool that helps content marketers easily create videos. It uses AI to help you turn any content into shareable videos quickly and affordably. It's especially useful for turning scripts into videos, making blog posts into videos, and editing videos using text.
It can also help create video highlights from long videos, add captions to videos, and even allow team collaboration on video projects. It's a handy tool for anyone looking to create professional-quality videos from existing content.
Pictory Unique Features:
Auto Summarize Long Videos
The Auto Summarize feature in Pictory shortens long videos by finding and keeping the important parts, making a summary video. This is good when you have a long video but want to share a short version that still tells the main point.
It saves time and makes sure the main message gets across quickly and easily. This is helpful for anyone wanting to share short and interesting video summaries without losing the main idea.
Video Editing Using Text
The "Video Editing Using Text" feature makes editing videos easy. Unlike normal editing, where you cut or add clips manually, here you can change your video by just changing text.
If your video has captions or text on it, just change the text to edit the video. This makes editing fast and easy, even if you need to learn more about video editing. It's a simple way to change your video without using complex editing software.
Video Highlights
The "Video Highlights" feature in Pictory helps when you have a long video and want to show only the key parts. For example, if you have an hour-long seminar video, this feature picks out interesting points from it and makes a short highlights video.
This way, you or others can watch the highlights and understand the main points quickly without watching the whole video. It saves time and makes sharing the main ideas easy and interesting.
Blog to Video
The Blog to Video feature changes written blogs into videos. If you have a blog, instead of sharing it as text, you can use Pictory to make a video out of it.
This is good because people like watching videos more, especially on social media. Making a video from a blog makes it more fun to watch and easier to share in places where videos are popular.
Pros and Cons
Pros
Easy to use
Text-to-video conversion
Intuitive video editing
Auto-summarizes videos
Team collaboration feature
Automatic video highlights
Cons
Subscription cost
Limited customization
High Learning curve
Internet dependency
Limited language options
Processing time
Price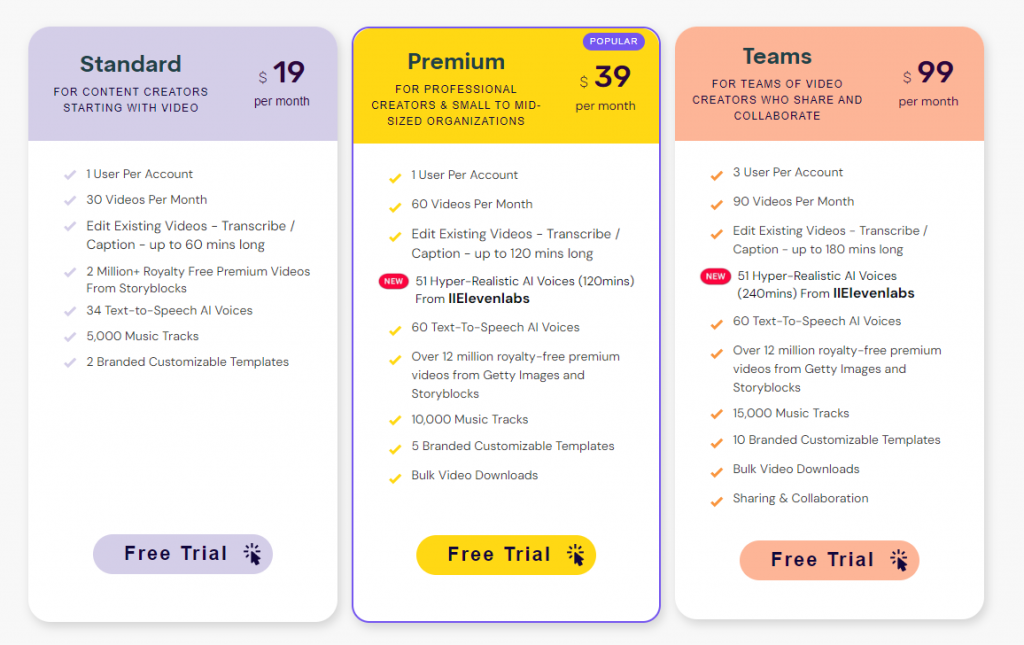 What is Lumen5?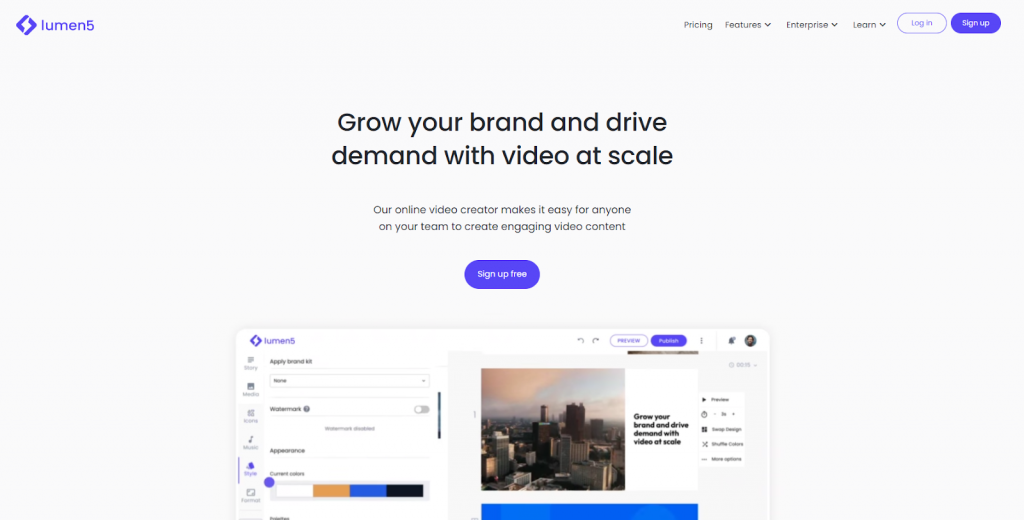 Lumen5 is a user-friendly online tool that uses AI to help you make professional videos quickly. With a simple drag-and-drop system and a big media library, you don't need any video editing experience.
It has ready-to-use templates, can turn articles into videos, and works with many video formats. You can cut, join, shrink, or resize videos and add text, pictures, and subtitles too.
Lumen5 is a cloud-based tool for making quality videos easily. It's good for freelancers, marketing teams, and agencies. It offers a big-stock media library, free music, and strong editing tools.
Lumen5 Unique Features:
Talking Head Videos
This is about turning a video of a person speaking into a polished presentation. Imagine you're recording a simple video of yourself talking about a topic. Lumen5's technology takes this footage and enhances it, making sure it looks professional and engaging, almost like a news anchor or a YouTuber's clip.
Blog to Video
If you have a blog post or an article, Lumen5 can transform that written content into a video. It picks out the key points from your text and pairs them with relevant images and animations. This way, your readers don't just get words on a screen; they get a dynamic video that's more likely to catch and keep their attention.
Transcript Editing
When you create videos, especially ones with voiceovers or interviews, you'll have transcripts of the written version of everything that's said. Lumen5 lets you edit these transcripts directly. This means you can tweak the text, and those changes will automatically sync with your video. It's like having a text editor for your videos.
Auto Captions
This is about automatically adding subtitles to your videos. You don't have to type out everything word for word. Lumen5's auto-captions do it for you. This is super helpful since captions make your videos accessible to more people, including those who are deaf or hard of hearing or those who prefer to watch videos without sound.
Pros and Cons
Pros
Easy to use
Templates to keep consistency
Fast marketing content creation
Great customer support
Customization of script
Cons
Fewer templates for creativity
Better voice-over option
Limited stock video options
Price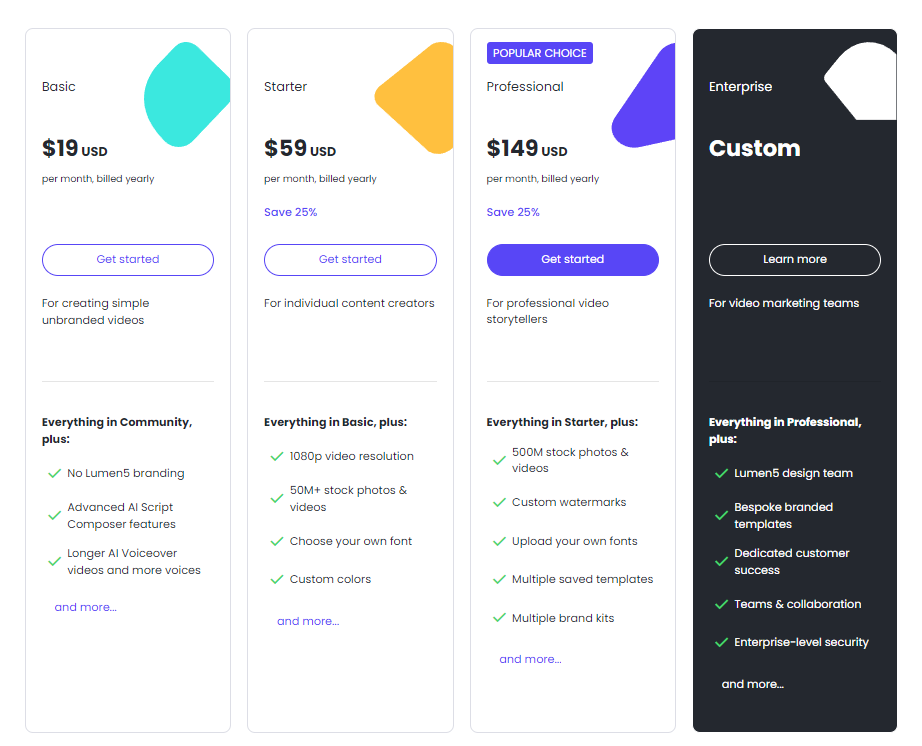 Use TextoSpeech for Quality Audio
TextoSpeech is an online tool enabling the creation of realistic, AI-powered voices. It offers 200 voices across 50+ languages. It enhances voice realism, adding emotions to express feelings. It simplifies high-quality sound creation.
Being web-based, TextoSpeech requires no software installation, offering quick, easy voice generation. Creating a voice on TextoSpeech is straightforward, with options to adjust speed, emotions, and speech for personalized output.
Conclusion
If you're searching for a Pictory alternative, you've got Lumen5 for great options. This alternative offers unique features that suit your video creation needs better, depending on what you're looking for.
Start experimenting with Lumen5 to quickly and easily create standout videos. Go ahead and give it a try.