Looking for the Best Uberuck Alternative but different? Uberduck's synthetic voice tech has fans and users, yet there is an alternative out there worth considering.
This article will introduce you to the best alternatives to Uberduck that offer synthetic voice and audio solutions. We'll navigate through their unique features and find out how they compare in giving life to your projects with voice.
What is Uberduck?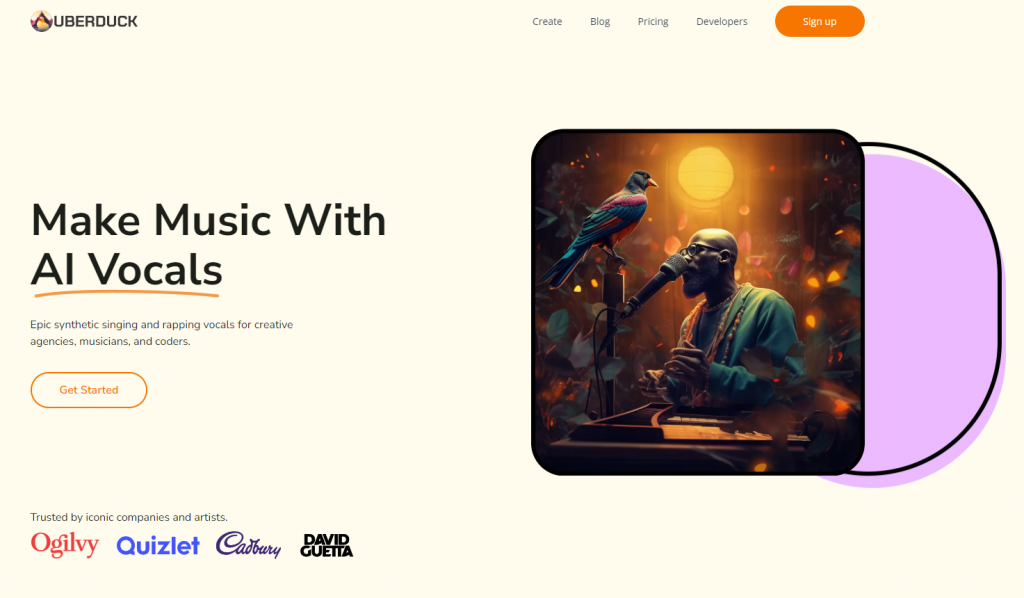 Uberduck is a cool online tool that lets you make music with artificial voices. You can pick a beat, write or generate lyrics, choose a voice, and then get a song out.
It's like having a mini music studio where you can make your rap songs. You can use the voices provided or make your own voice and then download your creation as an audio or video file to use however you want.
Features of Uberduck
Library of Voices
Uber has its own collection of voices. If you look, it has a total of 45 voices. You can pick any voice from there and use it to change your voice to sound like theirs.
Each voice is very different from the other. Each one has its own tone, speed, way of speaking, and style. So, you can choose a voice and see how it sounds and generate the sound on Uberduck.
Text-to-Speech
If you can't create a voice and you need to make a voice from your text for your audio, Uberduck's text-to-speech feature comes in handy.
In this feature, you just type your text, and the platform will turn your text into speech for you. This feature is very easy because you just need to write your audio content and pick the voice you want, then generate it.
Community and Collaborative Features
Uberduck has its own community that lets users share project ideas and feedback with each other. This feature gives you a space to learn and grow together creatively.
If you want to know about their community, you can find it on Discord and their own blogs. This way, you get to learn a lot and improve your work with the help of others.
Voice Modulation
Uberduck also lets you choose the way the voice sounds to match what you need for your sound or song. You can choose the mood, style, gender, and accent of the voice to fit your song.
This feature helps you add a personal touch to your audio so the result sounds more like how you imagined it. It's a way to make your sound or song more creative.
Pros and Cons
Pros
Large library of voices
User-friendly interface
Text-to-Speech feature
No need for software installation, web-based
Variety of accents and styles in voices
Quick generation of audio from text
Cons
Limited Voice Styles
Sounds Robotic
High learning curve
Price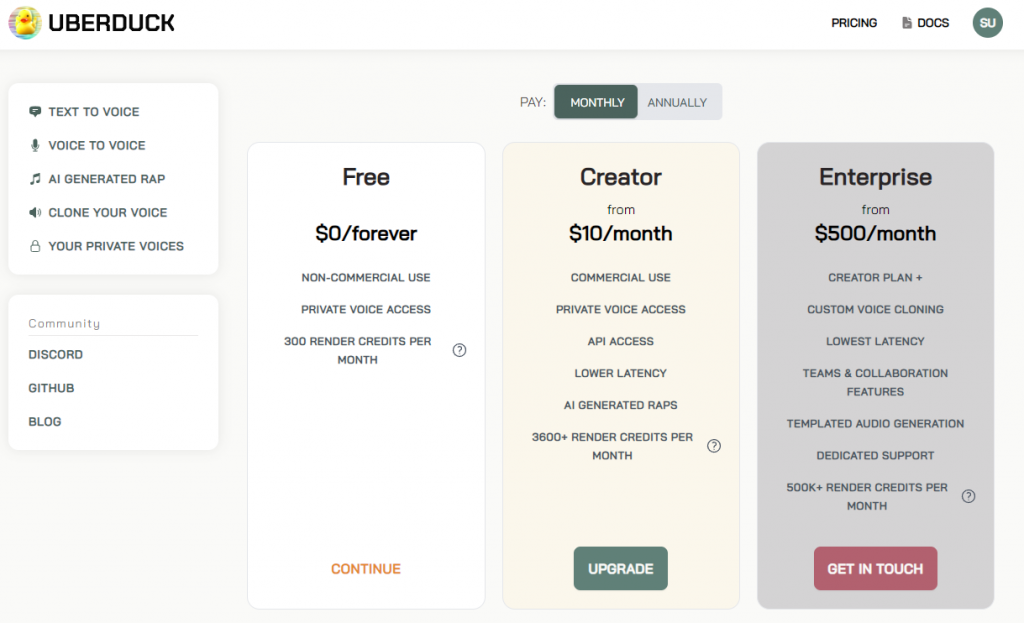 What Is Kits AI?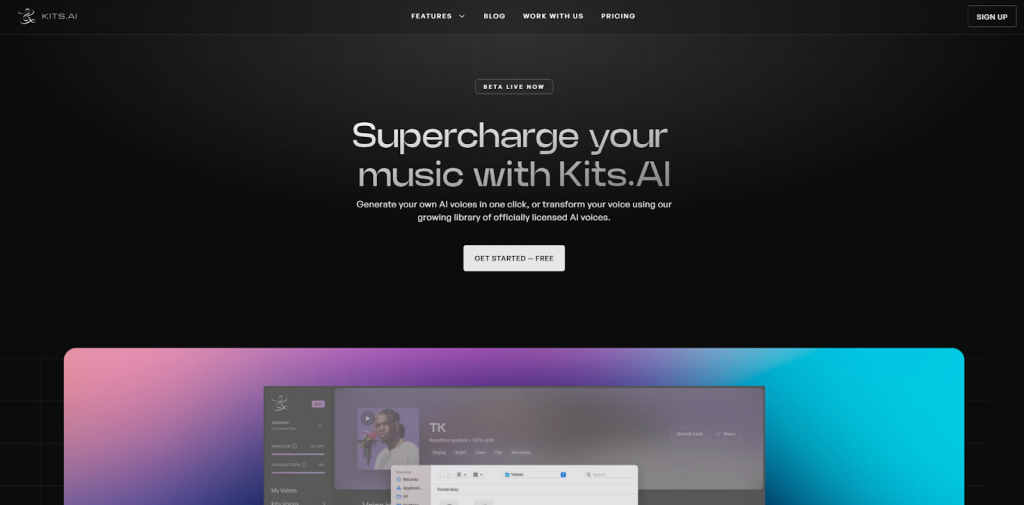 Kits AI is a tool that helps make music better with computer-made voices. It has a guide to help you make good voices. If you pay for a premium subscription, you can use a feature that turns text into speech.
They have introduced a new feature(like more model slots and priority training) where you can put YouTube links and start making voices right away. Kits also has a part where people can give their feedback to help make it better.
Also, They offer different features like training a custom voice, accessing royalty-free voices, and creating music with well-known AI artist voices, aiming to provide a comprehensive toolkit for music creation and voice generation​.
Features of Kits AI
AI Autotune Your Own Voice
AI auto-tune is a great feature given by Kits. It helps change your voice to sound better. In simple words, it turns your voice into clear and easy-to-listen audio.
It's like having a helper who makes sure you hit the right notes, making your singing sound more professional or matching a certain style you want.
YouTube Voice Training
The "YouTube Voice Training" feature in Kits lets you use YouTube videos to create your own voice models. You just need to paste a YouTube link, and Kits will start learning from the voice in the video to make a new voice model for you.
It's a simple way to use voices from YouTube to make your own custom voices for your projects​.
Community Feedback
Community feedback is a part of Kits where users and people share their thoughts or feedback, and Kits tries to collect and use this feedback to get better.
They ask for this feedback through a small survey, where you can tell them what you like, what you don't like, and what should be improved just by feeling and telling them, so they try to use it to make improvements.
It's like they're asking for help to make their platform the best it can be.
Library of Royalty-Free Voices for Commercial Use
Kits have a collection of voices that you can use for free in your projects, even if you plan to sell or share them. They won't ask for money if you use these voices, which is great for keeping your costs low while working on something you plan to sell or share with others.
Pros and Cons 
Pros
Variety of voice creation
Text-to-Speech feature
YouTube Voice Training
Community feedback
Royalty-free voices for commercial use
Guide for learning and improvement​
Cons
High learning curve
Premium features behind a paywall
Sounds robotic
Limited voices in the library 
Limitations in voice modulation features
Price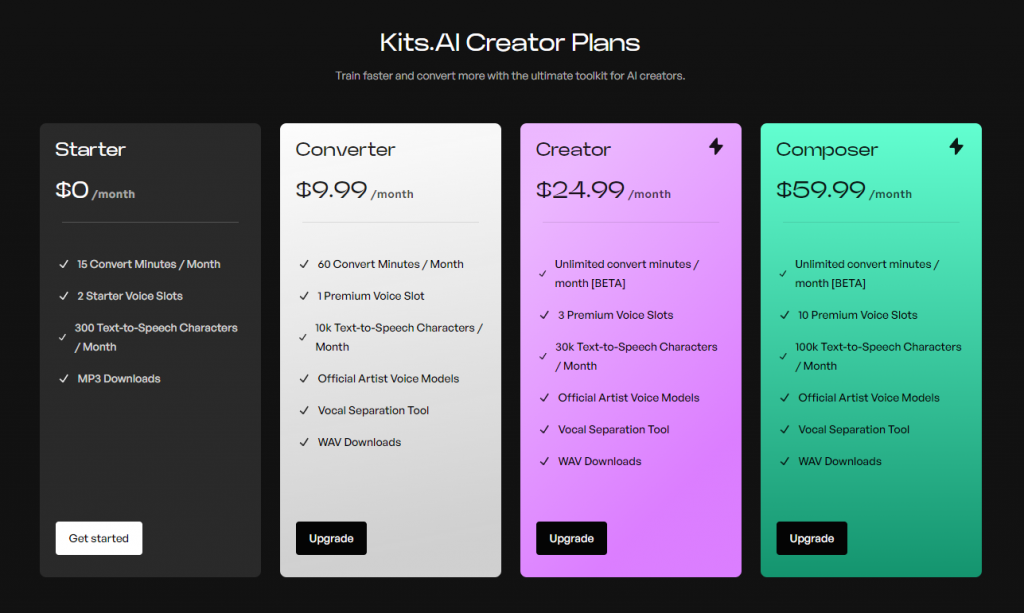 Use TextoSpeech to Generate High-Quality Audio
TextoSpeech is a web-based, user-friendly platform that converts text to speech, creating realistic voices in over 50 languages with 200+ options. You don't need to install anything, and you can generate voiceovers quickly.
It's great for making high-quality audio content with control over speech speed, pitch, and emphasis, although it needs to be mentioned for music creation.
You can also add emotions to make the voice sound more real and share your feelings.
Conclusion
So, looking for a change from Uberduck? Kits AI could be a good pick. It's got the AI tools you want and it's easy to use.
Thinking about trying out a new AI thing? Kits AI is there for you. It's a good choice, especially if you want to try something different from Uberduck. Give it a go and see what new stuff you can make!